HERA C4L Utah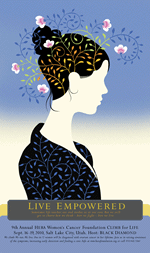 HERA Climb4life!
When: Thursday 9/16/2010 – Sunday 9/19/2010
Where: Black Diamond Salt Lake City, Utah and the surrounding canyons
HERA Climb4Life Utah is an incredible weekend of hiking and climbing in beautiful Salt Lake Valley with professional athletes and guides, as well as others like you who support ovarian cancer research and awareness initiatives.
The event, part of a national series that raises money for ovarian cancer research and awareness initiatives, roped in more than $100,000 last year! Join HERA as we bring together men, women and teens to climb, hike or run for a cure, whether you are a newcomer or old pro. You, the participants, are really the heart of the event. We need your strength to help fight ovarian cancer and save the lives of women and girls!
So far, HERA has been able to send over 85 percent of the money from Climb4Life events to scientific and community grants as well as awareness initiatives.