Night of the Living/Dawn of the….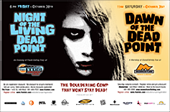 …Deadpoint!
From an email:
This year The Front and Momentum have joined forces for the Deadpoint Bouldering Comp Series. Yes, you get two comps in two days.
Each comp is $35. Get $5 off for being a member (of either gym) and $5 off for pre-registration. Register for both comps for only $50 plus take an additional $5 off for being a member (of either gym) and for pre-registration. (Plus you get a pretty sweet T-Shirt…)
That's $40 for TWO COMPS with pre-registration and a gym membership!
The Front is holding the Night of the Living Dead Point Comp on Friday October 30th. Check-in time is 5:30pm and climbing is from 6 – 8:30pm.
Momentum is hosting the Dawn of the Dead Point Comp the next morning, Sat. Oct. 31st. Youth comp check-in at 10:30a, and climbing begins at 11am. Adults check-in at 1:00p and climb from 1:30pm – 3:30pm. To support the spirit of Halloween, we will also be awarding a prize for the best costume, so get creative!!!!
The Deadpont Comp Series' sponsors include: Smith, Metolious, Wild Country, IME, Skull Candy, Petzl, Evolv, Asana, Five.Ten, Black Diamond, Blue Water Ropes, Red Chili, and La Sportiva. Prizes will be awarded at each comp, and there will be overall prizes for those who compete in both.
REGISTER NOW at: http://www.frontslc.com/website/comps/registration/